Although hiring a professional carpet cleaning company is the best way to go when deciding how to have your cleaning done, it doesn't come without preparation on your part. You want the job done quickly and efficiently, and there's a few things you need to do to achieve this. Here we'll go over some tips to make your experience a positive one.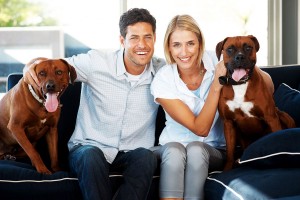 As unfortunate of a fact as it may be, theft is a concern you should take into account. These aren't personal friends of yours and it's always a risk that something could go missing or get broken if you leave it out. Small expensive items such as jewelry, portable electronics, decorations and baubles should be put away ahead of time in a secure location. Even placing these items in a drawer temporarily reduces the chance of problems. It's a small thing and no matter how much you trust the company, a step you should take.
It's probably best to have your pets cared for by someone else during the cleaning. Not only can the loud noises scare them, but having open doors is always a problem for indoor pets that you don't want to be outside on their own. Additionally curious pets create a tripping hazard to technicians which will either cause injury to them or the pets, or will extend the cleaning time having to avoid the pets.
If you have nice wood on your baseboards or stair edges, you can find products to temporarily protect them from the machinery involved in carpet cleaning. If you can't find these items, the next best choice is masking tape which will still prevent marking.
Finally, it goes without saying that you should have your furniture moved out of the way of the carpet, and pick up everything from the floor to avoid accidents. Professional carpet cleaning is a solid choice to get the job done right but you as the consumer need to prepare for it.